The Kirpekar Engineering Pvt. Ltd. Corrugated Fin Folding Machine is designed to provide an automated solution for the fabrications of corrugated wall tanks for electrical transformers. The machine which is comprised of a Decoiler, fin foiling machine, and automatic welding utilizes a PLC control system with a user friendly MMI. The easily to use system allows the operator to focus on fabrication of tank assemblies and not of machine programming.


Key Features-
PLC based control system with user friendly MMI
Electro Hydraulic powered decoiler and forming machine
Machine structure designed from structural tubing and precision ground plates ensuring a rigid frame, free from vibration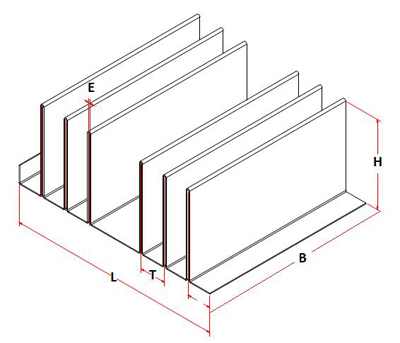 Description
KCFFM-1300
KCFFM-800
Steel Sheet Width
B
300 to 1300 mm
300 to 800 mm
Corrugation Height
H
50 to 400 mm
50 to 250 mm
Corrugation Pitch
T
45 mm to 80 MM
45 mm to 80 MM
Net Clearance between corrugations
E
6 mm
6 mm
Corrugation band length
L
Less than or equal to 2000 mm
Less than or equal to 2000 mm
Steel Sheet Thickness
1.0 to 1.5 mm
1.0 to 1.2 mm
Forming Speed- Less than or equal to 20 Sec for fin ht. 50 mm Less than or equal to 40 Sec for fin ht. 350 mm with embossing.